Learn more about the series and link up your own Dear Daughter
here!
Today's guest letter is from Kacie of A Collection of Passions, a fellow Oregonian and mama to two sweet girls Gigi and Lulu. Her blog lives up to its name: it's a fantastic collection of recipes, fashion, parenting, home DIY and more with beautiful photography. She also has a foodie blog with recipes and local spotlights called Gorge in the Gorge. You should definitely check it out, along with her Twitter, Facebook, Pinterest and Instagram!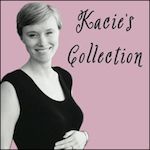 I'm so happy to be here to help celebrate Afton and Ruthie's birthday! I'm a twin myself and know the joy of a shared birthday. It's hard to believe these two little darlings are TWO already! I have two girls as well, Gigi (2 1/2) and Lulu (2 months) and I'm in love with being the mom of girls. I was so honored when Meg asked me to participate in this series.
Dear Gigi and Lulu,
When I first found out I was having another little girl, I was beyond thrilled. I would have loved to have a son too, but I was so excited that you two girls have the opportunity to experience what it means to have a sister. Your Aunt and I are so close. We talk every single day, sometimes twice a day. We support each other in our photography work. We consult each other over clothing purchases with texted photos from dressing rooms. We don't live close, but we are best friends.
When we were younger, it didn't feel like we had anything in common. Your Aunt was quiet, loved to read, was a straight A student, she was an introvert. I, on the other hand, was loud, colorful, adventurous, social... we were so different from one another. As kids and teenagers, even into our early twenties, we didn't relate to one another. But as the years have passed by we have become more and more alike. Your Aunt slowly became more outgoing, I became more reserved. We both became photographers. We both became wives and mothers.
I am so excited that the two of you will get to experience a complex, unique, loving, lovely, sacred, complicated, silly, perfect, relationship with one another. You will fight, you will steal each others clothes, you will probably wonder how in the world you're related, but you'll be friends because there is nothing that quite compares to having a sister.
I love you both,
Your Mama