Today I'm featuring a sweet letter from a new friend that I've quickly come to admire for her authentic natural parenting style, commitment to simple living, and her proximity to the beach - Brigid from Naturally Attached. The letter she shares today gives me so many hopes for the relationship that Ruthie and Afton will have in the future. Sisters are treasures! Check out Brigid's blog, Naturally Attached, on Facebook, Pinterest, and on IG.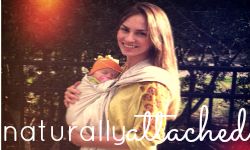 Thank you so much, Megan for having me over here on Boho Mama for this beautiful series for our daughters! I couldn't be happier to share this letter to my sweet Penelope with your readers. What an awesome tribute to ourselves, as mamas and to them! xoxo, Brigid
Dear Penelope,
I sat down to write this letter with the intention of helping you understand who I am as a woman - the part of my soul that you don't see everyday. The part that shaped who I am today, who I was 10 years ago, even 20 years ago - my past. The me before your swift entrance into this world. Then I started to realize that I have been so many versions of myself. My past and future was and is ever-changing and so am I. I am not the same person I was yesterday and I will certainly be a different person when you are able to read this. So all I can do is tell you how I've grown and changed into the person I am on this day in July, 2013.
The roads I have traveled have been smooth ones. I have been a lucky girl growing up surrounded by a large, happy family. I ran free around the neighborhood until dinner was ready. My best friend lived 2 houses down. I walked to the library, made lemonade stands and knew every neighbor on our block. I sat down around the dinner table every night to a home cooked meal with my mom, dad and two big sisters. Those people and that life is what shaped me into who I am. They are my roots. The core of who I am. I wouldn't be the person I am today if I didn't have them by my side growing up.
sailing to Martha's Vineyard
My parents surrounded me with the reality of the world around us. They did not cater to me. They did not give me everything I asked for. Instead, they played with me. They talked with me. They loved me. I am appreciative, frugal, secure and content because of them. They taught me to reconsider what was really needed in life in order to be happy. I was encouraged to do what I enjoyed, pushed just enough to try new things but never too much that I felt pressured. I am the mother, wife and friend I am today largely because of them.
 Your aunt Allie, Erin and me as a baby
Growing up with 2 older sisters comes with a lot of adjectives that I can not all list in this letter. ;) Some days you love them, some days you never want to speak to them again. Growing up does that to siblings and I'm positive you will look back feeling the same of Connor. The positive far outweighs the negative though - My sisters taught me to grow into an understanding, compassionate woman. Without them, I wouldn't know how to develop strong bonds, how to let go, how to forgive, how to move on, how to endure and grow into my own woman and stop comparing myself to others. They have taught me how to be the unwavering support system that you will need growing up, Penelope.
As we grew older they became my protectors. My safe spot and my voice when I was feeling too shy, too scared, too embarrassed. These four people - your grandparents and aunts have built me into the secure, accountable woman I am today and to always do what's right for me in the end. I always try to live by these words - "You may not control all the events that happen to you, but you can decide not to be reduced by them. Try to be a rainbow in someone else's cloud. Do not complain. Make every effort to change things you do not like. If you cannot make a change, change the way you have been thinking. You might find a new solution." ― Maya Angelou
sweet notes // "oh, i love your storys - and YOU." love that one from Erin. always checking my work. ;)
Penelope, I hope that you grow up feeling the same sense of security and support as I did and grow into the person that you want to be. That is most important.
xoxo, Mama