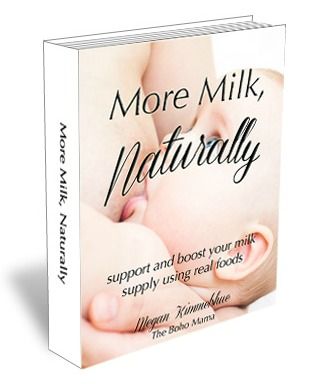 I've been reading and researching about breastfeeding since I found out I was pregnant with twins. There is so much great information out there about latch, positioning, trouble-shooting, but what I was most interested in was finding the answer to this question:
How can I support and boost my milk supply using real food?
I've been keeping a list, adding to it, creating recipes, and the more I learn, the more I've realized that this is a topic that I'm passionate about, and really want to help other mamas who have the same concerns I did!
I'm so excited to share this with you. My sincerest hope is that this book helps enrich and support your breastfeeding relationship. It's not just about a "magic" list of foods, but about good nutrition, self-care, and knowing when to seek professional assistance.
Adding these "lactogenic" foods into your daily meals, and making sure you are nourished, hydrated, and well rested, you'll already be one step ahead any challenges to come.
The book covers:
- Foods nursing mothers have eaten for over 2,000 years to support
and increase supply
- Why what you eat (and how much) really matters
- Why eating the right kinds of fat is important for you and your
baby
- Recipes to increase your milk quantity and quality
- Troubleshooting beyond foods for low milk supply
- And more!
What mamas are saying about More Milk, Naturally:
"the opportunity to review
Boho Mama's
e-book
More Milk Naturally
couldn't have come at a better time for me. This pithy little breeze of a read will be so, so very helpful as I intentionally incorporate more galactogogues into my diet. If you are currently nursing, or plan to soon, READ IT."
"Megan's 37-page booklet is a from-one-mom-to-another guide to boosting your milk supply and getting yourself started on the path towards eating healthy, nutritious foods that will sustain both you and your baby through your breastfeeding relationship. Even though I'm wrapping up my own journey as a nursing mama, I found the book to be really helpful and informative. When it comes to mothering resources, I always look for guides that are heavy on the scientific footnotes and provide a lot of straight-from-the-trenches ideas, and Megan's e-book provides both."
-
Courtney from (she always loved) larking.
"When I found out I was having twins (which i didn't find out till 20 weeks!!) I knew I needed to do some homework. This is where you come in, thank you so much for your informative and helpful ebook. My twins are just past a month and my milk supply has been great. I am not exclusively breast feeding as it is too hard with also running after my older daughter, but I am confident that if the twins were my first I would definitely be able to exclusively breast feed...I have followed (as best I can) your diet guide, adding Fenugreek, Chia seeds, coconut oil, coconut water just to name a few to a regular part of my diet. My BFF makes me the lactation cookies once a week as well as the quinoa bars so that I have something good to snack on. Anyways I am going to pass on your ebook to all my preggo friends and hopefully it will help them too. Thanks so much for the research time and energy you put into the book. I am truly grateful."
- Shannon D. via email
Download More Milk, Naturally now for only $4.99!
(PayPal or Credit Card)
Like what you've read? Become a More Milk, Naturally affiliate and earn 40% commission on every sale!