The Prenatal, Reborn: Ritual's new Essential Prenatal
I'm a Ritual ambassador and very excited to share their latest product launch with you: the Ritual Essential Prenatal multivitamin.
Essential Prenatal is a multivitamin formulated to meet the needs of expectant mothers but is also great for pre-pregnancy and women of childbearing age or who are not on active birth control and may become pregnant (that's me!).
Growing a new human being requires incredible energy and greater amounts of certain nutrients. Most of us try and eat a balanced diet most of the time, but a good prenatal can help support pregnancy and lessen the risks of birth defects. Of course, talk to your healthcare provider first.
Why I am trying Ritual Essential Prenatal:
Transparency: Ritual's formulation is research and evidence-based with resources and references on their website, easy to find and easy to read.
If you're thinking of becoming pregnant, starting Essential Prenatal helps your system to build up optimal nutrient levels in pre-pregnancy before pregnancy happens.
Even if you're not trying to become pregnant but want to be prepared – 45% of pregnancies in the U.S. are unplanned and critical development happens in the first 28 days, before most women even find out they are pregnant.
Vegan Friendly
Free of gluten, GMOs, colorants, synthetic fillers, and allergens
No-nausea capsule design
It comes in the mail! No more forgetting to order. Set your subscription and it comes when you need it to.
Intelligently formulated with mom and baby's health in mind:
Essential Prenatal's nested capsule means fewer, smaller prenatal vitamins. It's two capsules in one, with just 12 ingredients. See all the ingredients here.
One of the first of its kind to combine Omega-3 DHA with Choline.
No folic acid! Designed with the common MTHFR gene variation in mind, using Methylated Folate and B12 instead of Folic Acid and more commonly used cyanocobalamin B12, so the nutrients can be properly processed by all women to support neural tube development in the first 28 days of pregnancy.
No-nausea design capsule, which bypasses the stomach and releases in the small intestine, the most absorptive part of your gut.
Lemon-essenced, just like the original Ritual multivitamin.
My thoughts:
I received my Ritual Essential Prenatals in the mail just before launch. I'm not pregnant or breastfeeding at the moment, but I am not on birth control and try to be ready for if an unplanned pregnancy does happen. The capsules felt just fine on my empty stomach and I do love Ritual's lemon-essenced capsules that set them apart from other companies.
I also do not take any multivitamins that contain folic acid and was pleased to see that Ritual continued their attention to the more active forms in methylated Folate and B12.
Interestingly, Ritual did not include any calcium in their formulation. Why? According to Ritual's VP of Research, Dr. Luke Bucci:
"After months of research, we came to a surprising conclusion: Calcium doesn't belong in your multivitamin. Instead, we found that you need four vital helper nutrients that are intimately involved and essential for maintenance of bone mass much more than Calcium. And if you're pregnant, you still need those helper nutrients to get Calcium to where it's needed most in your body, so we've included these helper nutrients in both Essential for Women and Essential Prenatal. If you're nursing, you should talk to your doctor to make sure you're meeting your unique Calcium needs."
This explanation aligns with what the research I've done (and that I've talked to my N.D. about) over the years and I'm happy that Ritual is taking the research into consideration. Because it would be easy to just say, "people expect calcium, so let's just put it in to keep people happy."
What I do appreciate about Ritual and what sets them above many other vitamin companies is their transparency and dedication to research and evidence, and how accessible they make it for their customers. The mailer box of vitamins comes with a pamphlet full of information about the vitamins, and you can visit their website and find out where they source their ingredients, why they chose them, and the research behind the ingredient inclusion. This is what vitamin and supplement companies of today and of the future SHOULD always be doing!
So, if you are thinking about becoming pregnant, actively attempting, pregnant already, or within childbearing years, please give Ritual's new Essential Prenatal supplement a try and let me know what you think in the comments below!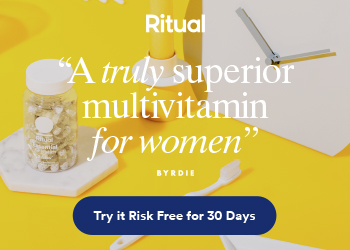 More references:
Prenatal Vitamins: Benefits, Side Effects, and How to Choose by Jamie Schehr, N.D., R.D.